Baking and Pastry Associate Degree
Bring confectionery and baking culture to the world!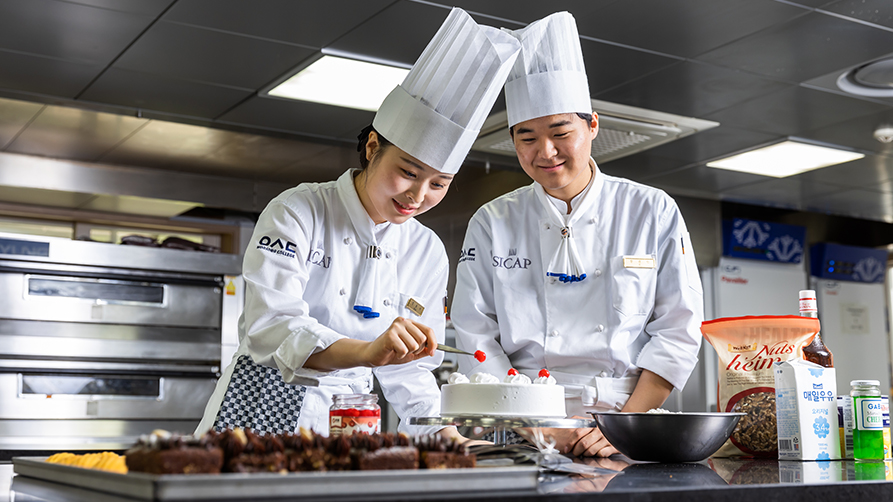 The two-year associates degree in Baking and Pastry creates graduates who specialize in American and European style baking and pastry. The clear boundaries between food culture by country/culture are disappearing due to the revitalization of overseas travel and the ease of information access. Gain a concrete understanding of baking theory and methodology through our world-class state-of-the-art labs and lecture system. Learn to become a professional who can create, communicate, and share culture through a small piece of chocolate, bread, or even a piece of cake.
Our curriculum has been benchmarked from leading culinary schools and is lead by international faculty who specialize in confectionary and baking. Graduates can look forward to a career as a pastry chef, restaurant baker, dessert stylist, bread pastry blogger, or more.
Experience you education so that you are ready for employment when you graduate with an Associate's Degree in Baking and Pastry from Woosong College.
Admission Requirements
Tuition & Fees
2022 BAKING AND PASTRY CURRICULUM
2-year ASSOCIATES DEGREE
Course List
Study Area
Course
Credits
Major Elective
Confectionery Basics 1*
4
Bread Basics 1*
4
Cake*
4
Food Science and Sensory Testing
2
Hygiene
2
High-end Bread*
4
Confectionery Basics 2*
4
Basic Cooking Practice*
3
Basic Nutrition
2
Chocolate Craft
3
Basic Dessert
4
Confectionery and Bakery Crafts
4
Boulangerie
4
Patisserie 1
4
Patisserie 2
4
Patisserie 3
4
Patisserie 4
4
Confectionery and Bakery Practice
4
Capstone Project 1
2
Special Bread
3
Luxury Dessert*
4
High-end Confectionery*
4
Naturally Fermented Bread*
4
Chocolaterie 1
6
Chocolaterie 2
6
Chocolaterie 3
6
Wedding Cakes
4
Confectionery and Bakery Business
1
Field Practice 2
3
Field Practice 3
9
Field Practice 4
18
Courses marked with a * are classes that focus on gaining certificates based on the Korean National Competency Standards (NCS).
General Electives
All students are required to take 14 credits in General Education
Study Area
Course
Credits
Gen Edu
General Education

- Communication Studies
- Problem solving
- Global practical English 1, 2, 3, and 4

14