College of Railroad Transportation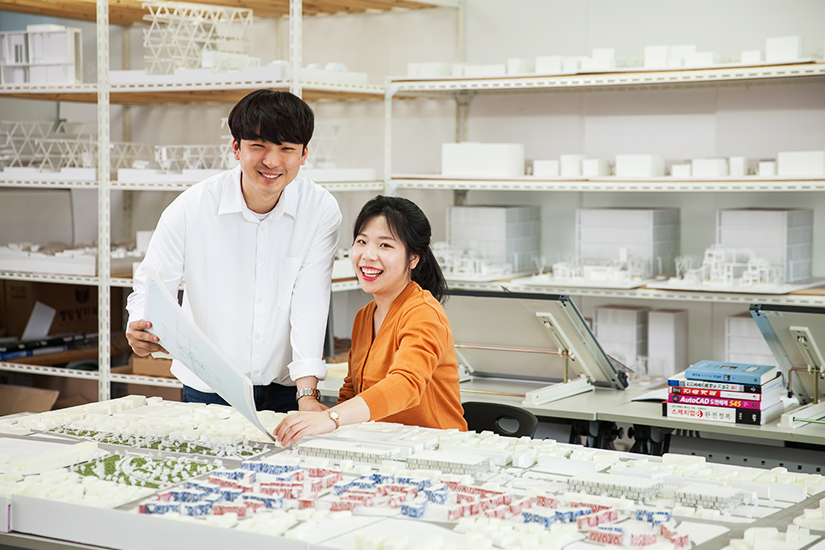 Department of Architecture Engineering
Tel : +82-42-630-9720 / Fax : +82-42-630-9728
Build Your Own Dream
The Development of Direct Access to Technology
The Development of practical architects who can lead the domestic architectural industry in a new paradigm.
---
Department Overview
Architectural engineering is an area of engineering knowledge throughout the process of making a real building. Our students become leaders in a field of construction and construction management. Our program explores the current architectural environment and facilities, focusing on the safety and durability of buildings, maintenance and remodeling of buildings. Our program also covers all areas of development of dismantling methods. For this purpose, the curriculum is divided into architectural engineering and architectural design tracks. By operating, students can acquire advanced expertise in both architectural engineering and design.
---
Education Goals

---
Curriculum
| Year | Major Courses |
| --- | --- |
| 1st Year | An Introduction to Architectural Science, Construction Material Test, Computer Application Building System1, Computerized Application System 2, Building Code Architectural Expression, Structural Analysis, Architectural Design and System, and Construction of Rural Houses |
| 2nd Year | Construction 1, Reinforced Concrete Structure, Architectural Environment, Digital Building Foundation, Architectural Mechanics Practice, Building Construction 2, Building Equipment1, Building Materials and Digital Building Applications |
| 3rd Year | Building Production Technology, Building code, Architectural Process Training, Quote Practice, Building Equipment 2, Architectural Practice 1, Architectural Practice 2, BIM Project 1, BIM Project 2, Capstone Design, Steel Structure, Architectural Practice |
| 4th Year | Architectural Practice, Steel Structure Practice, Digital Architecture Practice, Survey Practice, Environmental Architecture Practice, and Architectural Practice |