Culinary Arts Associate Degree
Cultivating future global food and beverage experts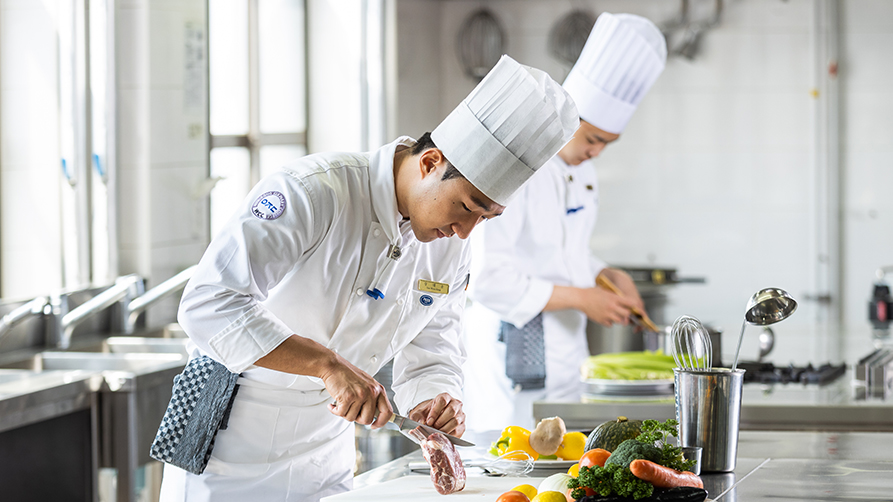 The Culinary Arts Associate's program is an international program focused on food service and the artistic presentation of foods. Gain practical skills in gastronomy, food product knowledge, and food preparation through classroom experience in one of Woosong's 36 kitchens. Our state-of-the-art kitchens provide industry-standard hands-on experience to ensure you are ready to work in the industry after graduation. Taught entirely in English, students receive in-depth knowledge in Eastern and Western cooking classes from international faculty with over 20 years of experience.
Experience your education at Woosong to become immediately employable and join the workforce as a Sous Chef, restaurant manager, food blogger, or restaurateur. Get your career started off on the right foot with an Associate's degree in Culinary Arts.
Admission Requirements
Tuition & Fees
2022 CULINARY ARTS CURRICULUM
2-year ASSOCIATES DEGREE
Course List
Study Area
Course
Credits
Major Elective
Saucier* ▼

Course Description
In this class, students will learn to the basics to sauce making, as well as how to prepare stews, hot hors d'œuvres, and sautés food to order.

4
Basics of Confectionery and Baking*
4
Basic Cooking Practice*
4
Food Science and Sensory Testing
2
American Regional Cuisine*
3
Butchery*
3
Basic Desserts
4
Basic Nutrition
2
Entremetier ▼

Course Description
In this course, students will learn and be responsible for preparing hot appetizers, soups, vegetables, pasta, and starches.

4
Food and Beverage Service*
3
Authentic European Cuisine*
3
Introduction to Korean Cooking*
4
Garde Manger ▼

Course Description
In this course, students will learn about food preparation with cold dishes that are prepared and stored under refrigeration.

3
Menu Development and Cost Management
2
Capstone Project 1
2
High-end Pastry*
4
Chinese Cuisine*
4
Korean Fermented Cuisine*
4
Restaurant Business Practices
1
Mediterranean and Middle Eastern Cuisine
4
Field Practice 2
3
Field Practice 3
9
Field Practice 4
18
Courses marked with a * are classes that focus on gaining certificates based on the Korean National Competency Standards (NCS).
General Electives
All students are required to take 16 credits in General Education
Study Area
Course
Credits
Gen Edu
General Education

- Communication Studies
- Problem solving
- Global practical English 1, 2, 3, and 4
- First aid and food hygiene and safety

16