Clubs & Organizations registration ends soon
writer : 관리자
|
Date :
2021.09.07
|
Hits : 1,387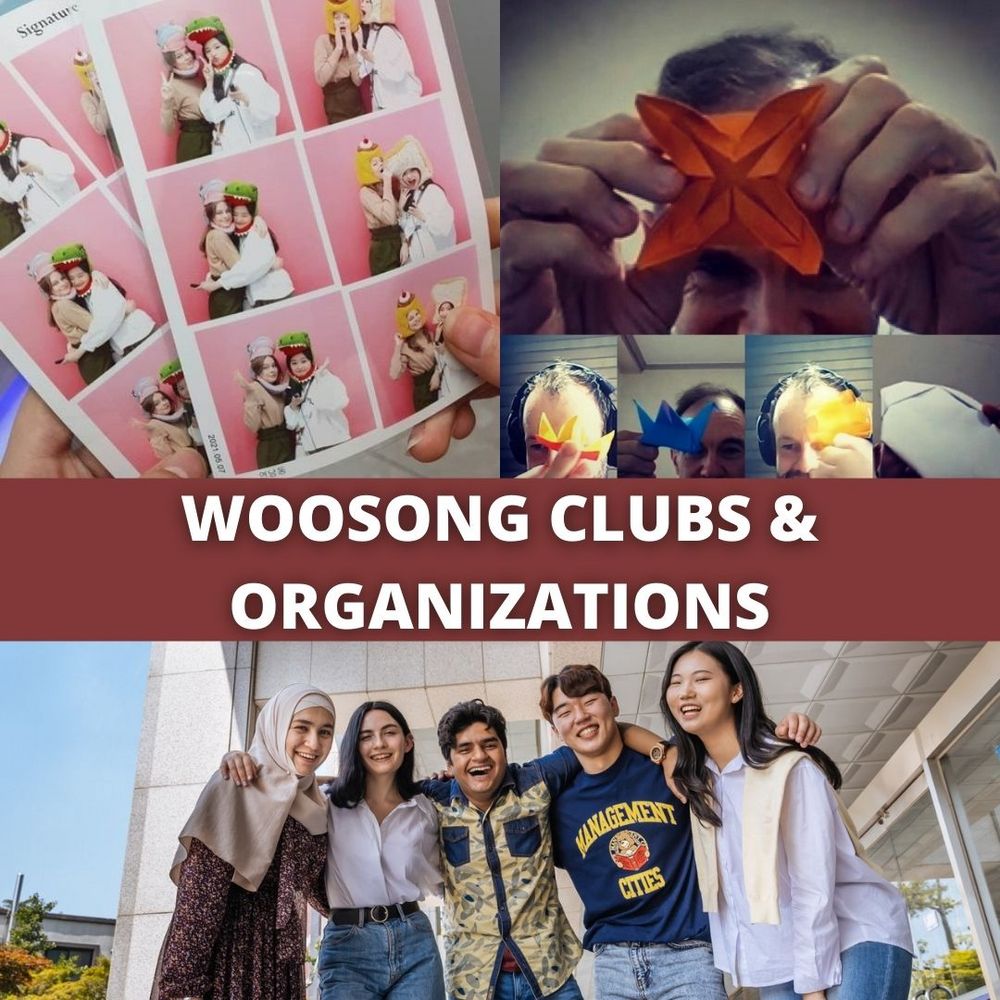 Fall 2021 has begun, and your semester has finally started. But, your university experience should be more than just academics. Make friends, explore new passions, and gain a diversity of experiences through extra-curricular activities.
Join one or more of Woosong University's clubs to create a semester filled with new friends and fun. WSU supports multiple clubs and organizations with a handful of them geared toward our international student population. Joining any of the clubs or organizations offered is an opportunity for you to find others that share similar interests and gives you a chance to meet people from different backgrounds and groups. You can meet fellow international and Korean students in "Korean Chingoo" or get one-on-one guidance and practice conversational English with "Life Coach."
No matter which program you decide to participate in, it starts with what is right for you. Explore some of our All-University clubs and organizations, which are open to all Woosong students. Below are a handful of our programs that are English-based.
---
All-University Clubs & Organizations:
E.A.R.T.H. Club
(Environmental Activists Ready To Help)
Come together with other environmentally conscious students to discuss the environment in English and try
to come up with solutions to solve environmental problems in Korea and the world at large.
- Register by Monday, Sept. 13
- Sign up by contacting professor Dirk at < dirkgootjes@woosong.org > with the subject line "EARTH Club"
Korean Chingoo:
Meet fellow classmates from around the world and Korea. Share your culture and experiences, play games together, and build friendships with people from all around the world.
- Register by
Friday, Sept. 10
Life Coach:
International professors of WSU mentor students. You can work on your conversational skills, participate in community events/activities, or even seek guidance from your mentor in 8 one on one sessions over the semester. Professors can provide insight based on their experiences and share what things are like back in their home countries.
- Register by Monday, Sept. 10
PATA_WSU
(
Pacific Asia Travel Association
)
:
This club is one of 29 international student chapters
. PATA WSU, or
ganizes numerous travel industry training programs and business development
events across the world, with a
primarily focusing on
providing opportunities for the members of the chapter.
- Register by Monday, Sept. 13